Great news we have a Michael sighting at last!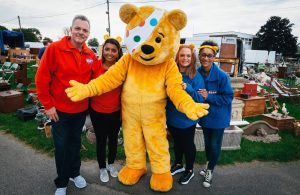 BBC television stars Michael French, Sunetra Sarker and Pudsey, alongside Amanda Henderson and Suzanne Packer

On Wednesday 3rd October 2018, Charlie Ross and the team will be filming the auction for the BBC Children in Need Bargain Hunt special.

This year, stars of the BBC's longest running medical drama, Casualty, have swapped their stethoscopes and scrubs for Bargain Hunt's famous fleeces. On the red team are Sunetra Sarker and Michael French, who played Dr. Zoe Hanna and clinical lead Mr. Nick Jordan. Their opponents in blue are Suzanne Packer and Amanda Henderson aka nurses Tess Bateman and Robyn Miller.

The teams hope to make plenty of profit on the items bought at Ardingly Antiques and Collectors' Fair, because every pound and penny made goes to BBC Children in Need. On the day auctioneer Catherine Southon will be wielding the gavel, and you can join in the fun by bidding live online for the teams' items, as well as loads of extra lots including goodies donated by our presenters & experts, signed BBC merchandise and exclusive experiences.

To view the lots as well as take part in the auction, you just need to create a login on the-saleroom.com website and follow a simple registration process. If you log in on the day from 10.30am you can bid live online as the actual auction happens! Winning bidders will be notified after the sale ends, with all proceeds of course going to BBC Children in Need.